About Dr. Jennifer L. H. Murphy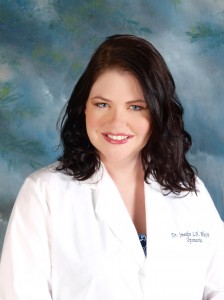 A native of Charleston, South Carolina, Dr. Murphy attended the University of South Carolina and the University of Missouri in St. Louis.
She has been delivering the highest quality eyecare since 2003. She and her staff welcome the opportunity to be your family eyecare provider.
Dr. Murphy puts her patients' needs first, and as a result, a high percentage of her business is from returning patients and their kind referrals.
Dr. Murphy currently serves on the Sears Optical Optometric Advisory Council.

Links of Interest
GENERAL INFORMATION ABOUT OPTOMETRY:

DRY EYE TREATMENTS:

LASIK INFORMATION:
SCIENCE AND VISION FOR ALL AGES: