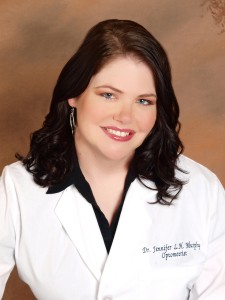 When was the last time you had a great eye exam and really liked your eye doctor?  Wouldn't you like to feel that your optometrist cared about your eyes as much as you do?  That happens here every day.
Dr. Murphy will give you a comprehensive eye exam that can detect problems related to diabetes, high blood pressure, and other medical conditions. Make your family doctor proud and get your eyes checked!
Did you know that macular degeneration is a leading cause of vision loss over 60? There have been significant breakthroughs in treatment options that can save your vision. Your eyes will also be evaluated for troublesome conditions like cataracts and more menacing ones like glaucoma. There are no symptoms of many eye diseases. Eye exams are recommended yearly for most people, even if you don't have trouble seeing. There is more to a healthy eye than 20/20 vision.
Dr. Murphy specializes in the latest contact lenses for astigmatism, dry eyes, and for those who wear bifocals. Even if you've never worn contact lenses before, we can turn you into an overnight success story. Come see us today and find out why there has never been a better time to be a contact lens wearer!
INSURANCE PLANS ACCEPTED
Blue Cross Blue Shield of NC
Most Medicare plans
EyeMed
Tricare
Cigna Vision
Superior Vision
Aetna
Vision Benefits of America
Davis Vision
as well as many others.
Call to see if we accept your insurance!
Please contact your insurance company for your specific coverage.